How safe is Skiing Without Lessons?
For those of us who have fond memories of ski-school or who are dedicated to improving our technique, lesson-free skiing may seem like anarchy.
However, there are some undeniable perks. Most people prefer ski-holidays when they no longer need lessons. So, why not skip them completely?
It's the cheaper option
For those who want the skiing experience without the hefty price tag, skipping the lessons will save you some money. Who doesn't love to save money?
Whilst there are many ways to make your holiday cheaper, it can't be argued that skiing lessons are expensive. Skiing without them avoids this!
Many are willing to sacrifice the best technique for a more affordable price. We can't really blame them.
Your holiday has more freedom
Hitting the slopes should be about fun and excitement, right? Lessons get in the way of this.
With a lesson-free holiday, skiers are free to follow their own schedule. Want to get up a bit later? You can! Fancy hitting a new slope? Go for it! Want to go wherever the mood takes you? That's fine too!
Skiing without lessons offers a sense of freedom you won't get otherwise. It's just you and the slopes!
Do it your own way
Some people are really against being told what to do. They reject having to take lessons while on holiday- 'it's not what holidays are for!'
So, freestyle skiing is the perfect solution. Playing by your own rules is a much more appealing option. You are free to ski however you choose, without being constantly corrected.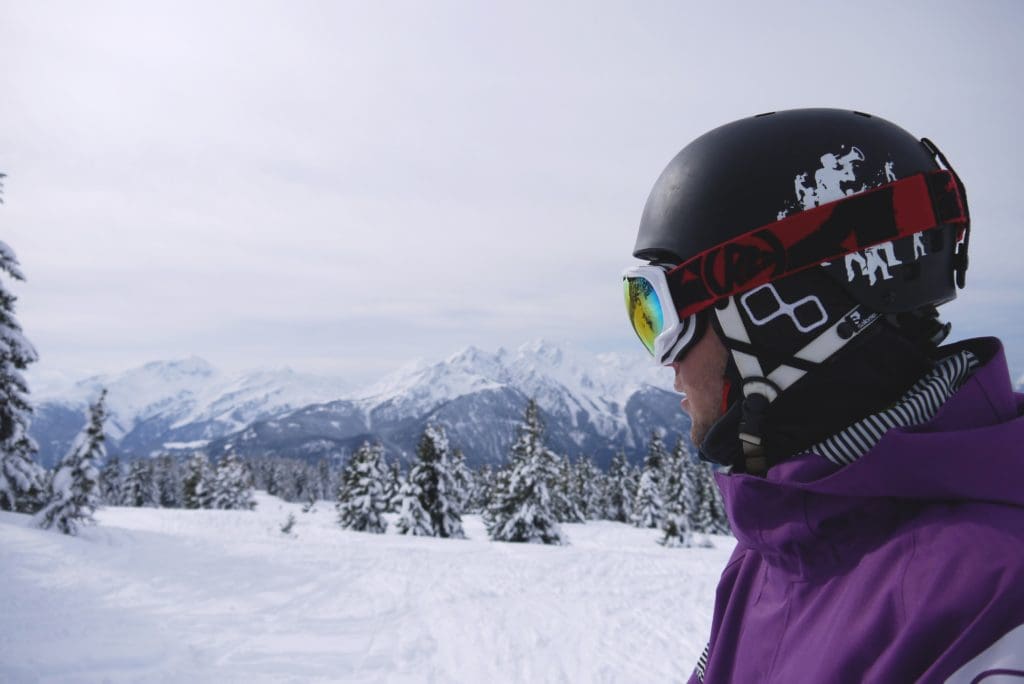 You don't have to be an expert
Skiing without lessons is appealing because not all of us are trying to be a pro. Many are perfectly content with simply having fun.
Some people ski simply as a one off, so lessons seem like a waste of money.
Particularly for child-less groups and university trips, skiing is mainly about the après. So, who cares how good you are on the slopes?
As long as you're enjoying yourself- that's all that matters!
Too old for ski-school?
Many people don't go skiing until they are an adult, and it's fair to assume that adults don't want to take lessons.
It's not about arrogance! Rather, ski lessons are simply off-putting for adults, especially if travelling with a group that have all been before.
So, one huge pro of skiing without lessons is just that. No ski-school for you!
You may also like: 14 Ski Hacks That'll Guarantee You Get More Time on the Slopes
There's a consequence for everything…
Unfortunately, first-time skiing without lessons has its downsides. While some people might be self-assured in their natural abilities, this is not true for everyone. Sadly, we don't live in an ideal world!
To the question 'Should I get lessons before my first ski holiday?' our answer is yes, definitely. Here are our reasons why:
You might get left behind
One major con of skiing without lessons is that you may be left out. If everyone you are on holiday with has been before, you may find yourself skiing on your own. At least if you're in a group lesson you'll be surrounded by people with the same abilities!
Skiing is a fun and sociable activity, but skiing without lessons may cause it to be the opposite. Who wants to be the last one down the slopes every time?
Burden on family and friends
Sadly, your family and friends won't want to spend their holiday teaching you. They may not mind giving the odd coaching tip, but eventually you will become annoying. It's sad but true!
Also, the rest of your skiing party will want to maximise their time on the slopes. So, no one will want to spend their time waiting for you.
You'll miss out!
Want the full experience? Many of the best skiing experiences are only for intermediate level and above. Skiing lessons make these possible!
While for some, skiing may mean freedom, without lessons, you won't be able to go on the tougher pistes and the black runs. Off-piste skiing? Forget it!
For intermediate and advanced level skiers, there is the opportunity to try heli-skiing. Ever wanted to see the mountains like never before? Unfortunately for those who skipped their lessons, this exhilarating experience will be out of reach.
We don't recommend any adrenaline junkies skip lessons.
You might end up red-faced
No, not from the slopes.
Without lessons, it's likely you will end up fumbling and falling about with no clue how to get back up again.
Clearly, this will be quite embarrassing. Skiing is a stylish sport!
It causes bad habits
No matter how confident you are of your natural ability, skipping the lessons can lead to bad habits that are hard to break.
This is a concern for those who want to ski regularly, and look good doing it.
While lessons seem tedious, you only need a few to pick up the technique.
What's involved in turning? How do you brake? These questions can be answered in lessons.
On paper, skiing without lessons may seem like a great idea. However, once on the slopes it will probably be daunting to not know where to begin.
Consider those around you
Possibly the most important reason to take lessons is that they make you safer around others. Hurtling down the mountain can affect those around you!
Did you know there's a technique for falling safely? Do you know how to carry your skis correctly? All these safety tips will be missed without lessons!